Nairobi, Wednesday, September 20, 2023: Kenya Electricity Generating Company PLC (KenGen) has launched a Ksh.22 million food drive to support school feeding programs in seven counties, reaffirming its commitment to education and community well-being.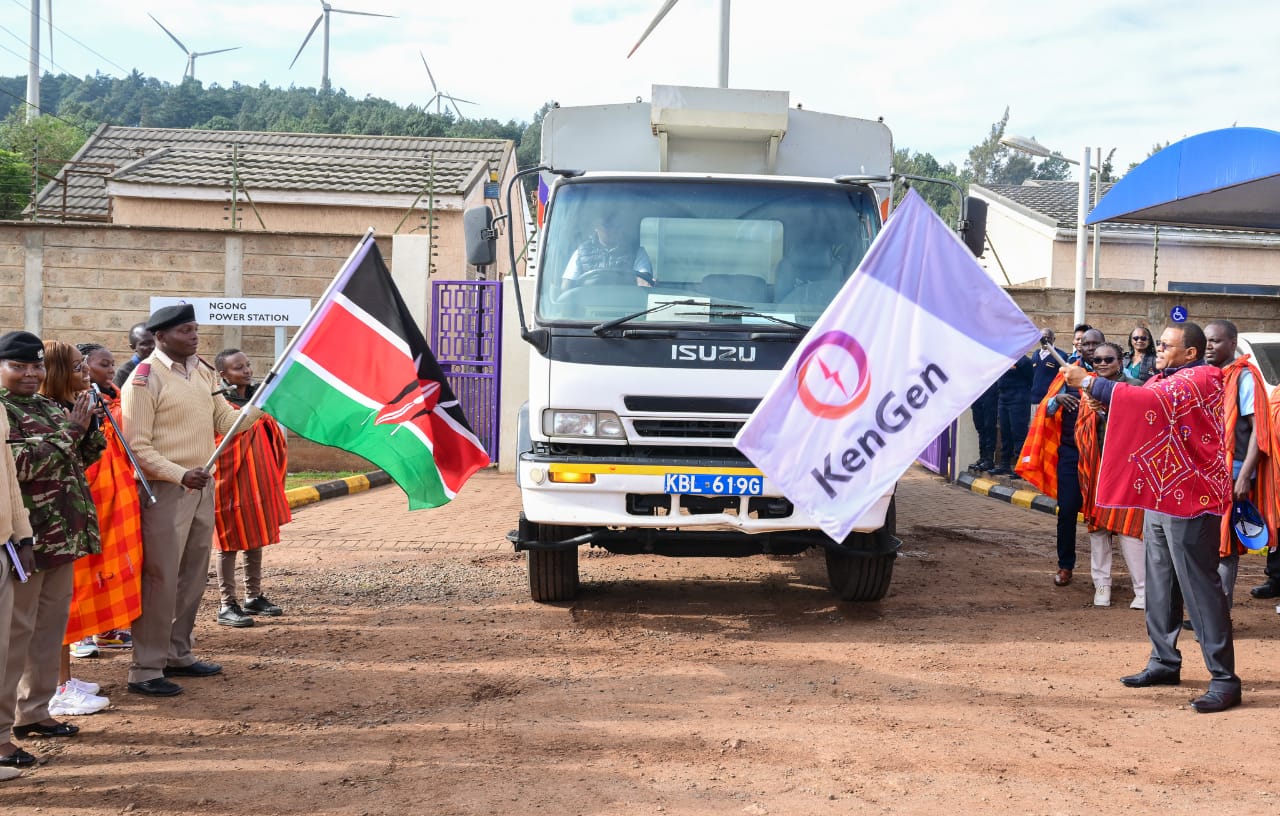 In an effort to alleviate food shortages and support local communities, KenGen is doubling its earlier food distribution efforts, which initially amounted to ten million, benefiting marginalized groups, including people with disabilities, youth, children, and women who have been severely impacted by food scarcity.
This food distribution drive, which began in November 2022, focuses on schools near KenGen's electricity-generating power stations, aiding the government's school feeding program to mitigate the high cost of living and ensure students in KenGen-hosted communities can continue their education.
KenGen Managing Director and CEO, Eng Peter Njenga, said the food donations including maize, beans, and cooking oil, were carefully selected to support schools in marginalized communities facing economic hardships.
The campaign targets seven counties with active KenGen installations namely Machakos, Embu, Turkana, Nakuru, West Pokot, Kajiado, and Kitui, impacting approximately 136 schools, ensuring students have access to food as schools reopen amidst challenging economic times.
Speaking during the flag-off ceremony in Kajiado County, Eng. Njenga emphasized KenGen's dedication to uplifting local communities and fostering a strong partnership in electricity generation, recognizing education as a vital equalizer.
KenGen's commitment to community engagement is grounded in a comprehensive Corporate Social Responsibility (CSR) policy, focusing on education, environment, water, sanitation, and other community needs, ensuring harmonious coexistence with project-hosting communities.

. . . . . . . . . Ends ….......
Note to Editor:
About KenGen
Kenya Electricity Generating Company PLC - KenGen is the leading electricity generation company in the Eastern Africa region with an installed generation capacity market share of more than 60%. The company's primary business is to provide safe, reliable, and competitively priced electric energy for the country in an environmentally friendly and sustainable manner while creating value for its stakeholders.
Today, KenGen PLC has an installed generation capacity of 1,904MW, of which over 86% is drawn from green sources namely: Hydro (826MW), Geothermal (799MW), Thermal (253MW), and Wind (25.5MW).
For media queries please contact:
Frank D. Ochieng, Tel:0721816896
This email address is being protected from spambots. You need JavaScript enabled to view it. or This email address is being protected from spambots. You need JavaScript enabled to view it.
Nairobi, Thursday, August 31, 2023: Kenya Electricity Generating Company (KenGen) and Konza Technopolis Development Authority (KoTDA) today broke ground for KenGen's Green Energy Park in Olkaria, Naivasha in a move that is set to spur industrialization in the region.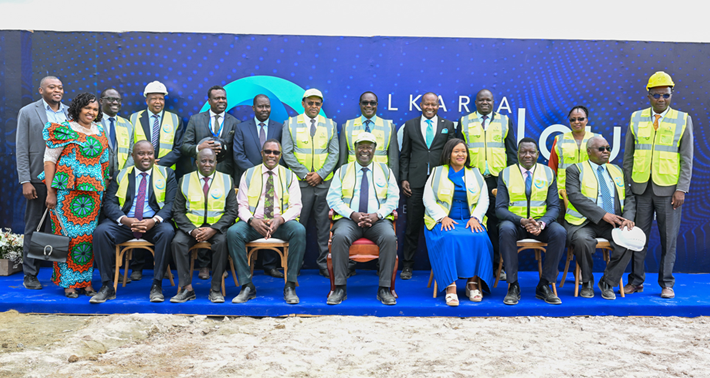 This visionary project is set to redefine industrialization while providing a sustainable and clean source of geothermal energy.
The Green Energy Park project exemplifies KenGen's commitment to shaping a more sustainable future. The Energy Park aims to harness the abundant geothermal resources in
Olkaria, providing a stable and renewable energy source for industries within the park. Notably, the park presents an alluring opportunity for investors seeking collaboration with KenGen to establish industries within a green energy-focused environment.
In his remarks, KenGen's Board Chairman, Julius Migos Ogamba, said: "The partnership with KoTDA and the initiation of the Green Energy Park highlights the power of collaboration and the potential for positive change. This venture represents the first step towards a new era of industrialization, one that places environmental sustainability at its core."
For his part, KenGen's Managing Director and CEO, Eng. Peter Njenga, expressed his enthusiasm, stating: "Today marks a turning point in our journey towards sustainable development. The Green Energy Park is a testament to our dedication to innovation, collaboration, and responsible growth. This is an open invitation for investors to join us in creating a greener, more prosperous future."
KoTDA, the pioneering investor of the Green Energy Park, has set in motion plans to establish the Eco Cloud Data Center within the park, marking the commencement of this visionary journey.
Spanning an impressive 342 hectares, the Green Energy Park will accommodate a harmonious blend of industrial and non-industrial activities. The master-planned development encompasses offices, data centers, research and development centers, hospitality spaces, a visitor experience center, and administrative and commercial facilities. The park's four-phase development plan for the period 2025 to 2045, will create a dynamic environment that fosters economic growth and innovation.
With its geothermal power plants located in Olkaria, The Home of Geothermal in Africa, KenGen is well-positioned to be a leader in sustainable energy generation. Generating about 800MW of geothermal power from this field, Kenya boasts an impressive installed geothermal capacity of 950MW, ranking seventh in the world in geothermal power generation.
###

Note to Editor:
About KenGen
Kenya Electricity Generating Company PLC - KenGen is the leading electricity generation company in the Eastern Africa region with an installed generation capacity market share of more than 60%. The Green Energy Park, an ambitious endeavour by KenGen, signifies a leap towards a sustainable industrial future. The company's vision is to empower businesses through affordable electricity tariffs, fostering industrialization.
Presently, KenGen PLC boasts an installed generation capacity of 1,904MW, with over 86% sourced from green outlets, including Hydro (826MW), Geothermal (799MW), Thermal (253MW), and Wind (25.5MW).

For media queries please contact:
Frank D. Ochieng, Tel:0721816896
This email address is being protected from spambots. You need JavaScript enabled to view it. or This email address is being protected from spambots. You need JavaScript enabled to view it.
Nairobi, August 18, 2023: The Board of Kenya Electricity Generating Company PLC (KenGen) is pleased to announce the appointment of Eng. Peter Waweru Njenga as Managing Director and CEO. Eng. Njenga assumes the position previously held by Mr. Abraham Serem in an acting capacity.
Eng. Njenga takes over leadership of the NSE-listed company at a pivotal moment as it unveils an ambitious 10-year plan to significantly increase baseload electricity generation, aiming to reach a milestone of up to 3,000MW of installed electricity generation capacity.
Stepping into this pivotal role, Eng. Njenga brings with him a remarkable legacy of excellence in corporate leadership and management. Prior to his appointment, he distinguished himself as a reputable energy expert most notably as General Manager for Infrastructure Development at Kenya Power. Throughout his tenure, Eng. Njenga held various senior management positions and played a pivotal role in driving growth in the energy sector.
With an illustrious career spanning over 31 years, Eng. Njenga began as a graduate trainee at Kenya Power in 1991, and he steadily ascended the ranks to attain this prestigious appointment. Eng. Njenga's academic foundation includes a Bachelor of Science Degree in Electrical Engineering from the University of Nairobi, complemented by a Master's Degree in Business Administration (Strategic Management) from the same institution.
The KenGen PLC Board of Directors extends sincere congratulations to Eng. Peter Njenga on his appointment. His strategic foresight, unwavering commitment, and dynamic vision make him a pivotal addition to the leadership team. The Board also takes this moment to acknowledge and express gratitude for the exceptional leadership demonstrated by Mr. Abraham Serem during his tenure in an acting capacity.
Eng. Njenga's appointment ushers in an existing era for KenGen PLC as it embarks on a transformative journey towards increased baseload electricity generation. The Board eagerly anticipates witnessing the realization of the company's ambitious 10-year plan under Eng. Njenga's able stewardship.

 Ends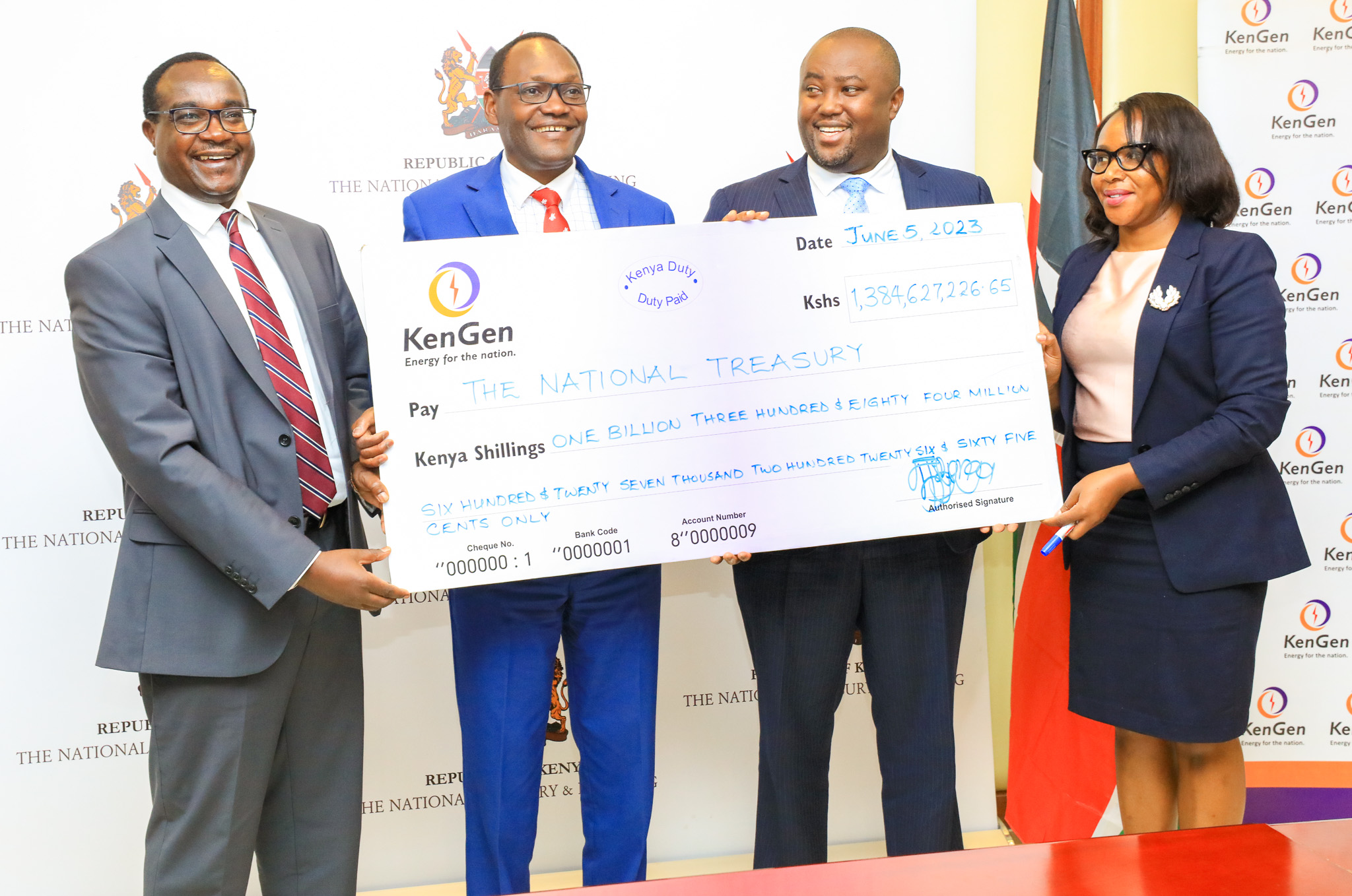 KenGen Chairman Julius Migos Ogamba (Left) presenting KenGen's 1.4 billion dividend cheque to the National Treasury PS Dr. Chris Kiptoo (2nd Left) flanked by Energy PS Alex Wachira and KenGen Acting Managing Director and CEO Elizabeth Njenga at National Treasury Building.
Nairobi, Monday, June 5, 2023: Kenya Electricity Generating Company (KenGen) has announced payment of Ksh.1.4 billion to the National Treasury as a dividend for the financial year ended June 2021, underpinning the company's sustained positive financial standing.
This follows a recommendation by the KenGen Board to the shareholders during the AGM held in December 2021 for payment of a first and final dividend of Ksh.0.30 per ordinary share of Ksh.2.50 for the year ended June 2021. The pay-out translated to a total of Ksh.1.98 billion, of which other shareholders already received their entitlement in 2022.
Of the total dividend paid out by KenGen, Ksh.1,384,627,226.40 was to the Kenyan government, which owns 70% of the Company's stock making it the sole majority shareholder. This announcement was made when KenGen presented the cheque to the National Treasury on Tuesday, which Principal Secretary, Dr. Chris Kiptoo received on behalf of Cabinet Secretary Prof. Njuguna Ndung'u.
Speaking during the formal cheque handover ceremony, Dr. Kiptoo commended the Ministry of Energy and KenGen for what he termed a rare occasion where the government receives money from local agencies.
"Many companies are going through hard times now and therefore for KenGen to post profits and pay dividends is a clear testament to the company's good management processes," said Dr. Kiptoo.
The National Treasury PS said energy was crucial in the development of Kenya, adding that the government was keen to support new strategic areas of growth in the entire electricity value chain.
For his part, Principal Secretary, Ministry of Energy and Petroleum, State Department of Energy, Alex Wachira, lauded KenGen's consistency in delivering value to shareholders, which he attributed to the NSE-listed company's sound corporate strategy, that he said has seen KenGen diversify into new revenue streams.
"Going forward, KenGen must grow its business to ensure you remain a major player in the energy value chain contributing between 67% and 75% of Kenya's electricity consumption at any given time," said the Energy PS.
He challenged KenGen to focus on growing the baseload of electricity using renewable energy sources like geothermal, hydro, wind, and solar, adding that this would also help drive down the cost of electricity.
In his remarks, KenGen Chairman Julius Migos Ogamba said: "This is truly a remarkable day and a testament to KenGen's resolve to continue creating value creation for its shareholders and indeed the great people of Kenya."
The Chairman added: "Today, we make a bold statement about the organizational health of your company KenGen. Truly, this is a win for Kenya as it guarantees that we will always be here to ensure the availability of reliable, clean, and competitively priced energy for Kenyans."
Ogamba said KenGen's continued dividend pay-out to shareholders demonstrates the company's financial stability and good financial investment option for many investors in the Nairobi Securities Exchange.
For his part, KenGen Ag. Managing Director and CEO, Abraham Serem said the dividend payment to the National Treasury exemplified KenGen's commitment to providing value to its shareholders.
"To keep creating shareholder value, we are keen on implementing our diversification strategy to attract new revenue streams working together with our stakeholders in generating clean, reliable, safe, quality, and competitively priced electricity for the nation in 2023," said Serem who was represented by Business Development and Strategy, General Manager, Elizabeth Njenga.
The Government of Kenya owns a 70% stake in the NSE-listed company while private investors own 30%.
Ends.


Note to Editor:
About KenGen
Kenya Electricity Generating Company PLC - KenGen is the leading electricity generation company in the Eastern Africa region, with an installed generation capacity market share of more than 60%. The company's primary business is to provide safe, reliable, and competitively priced electric energy for the country in an environmentally friendly and sustainable manner while creating value for its stakeholders.
Today, KenGen PLC has an installed generation capacity of 1,904MW, of which over 86% is drawn from green sources, namely: Hydro (826MW), Geothermal (799MW), Thermal (253MW), and Wind (25.5MW).
For media queries, please contact:  
Frank D. Ochieng, Tel:0721816896
This email address is being protected from spambots. You need JavaScript enabled to view it. or This email address is being protected from spambots. You need JavaScript enabled to view it.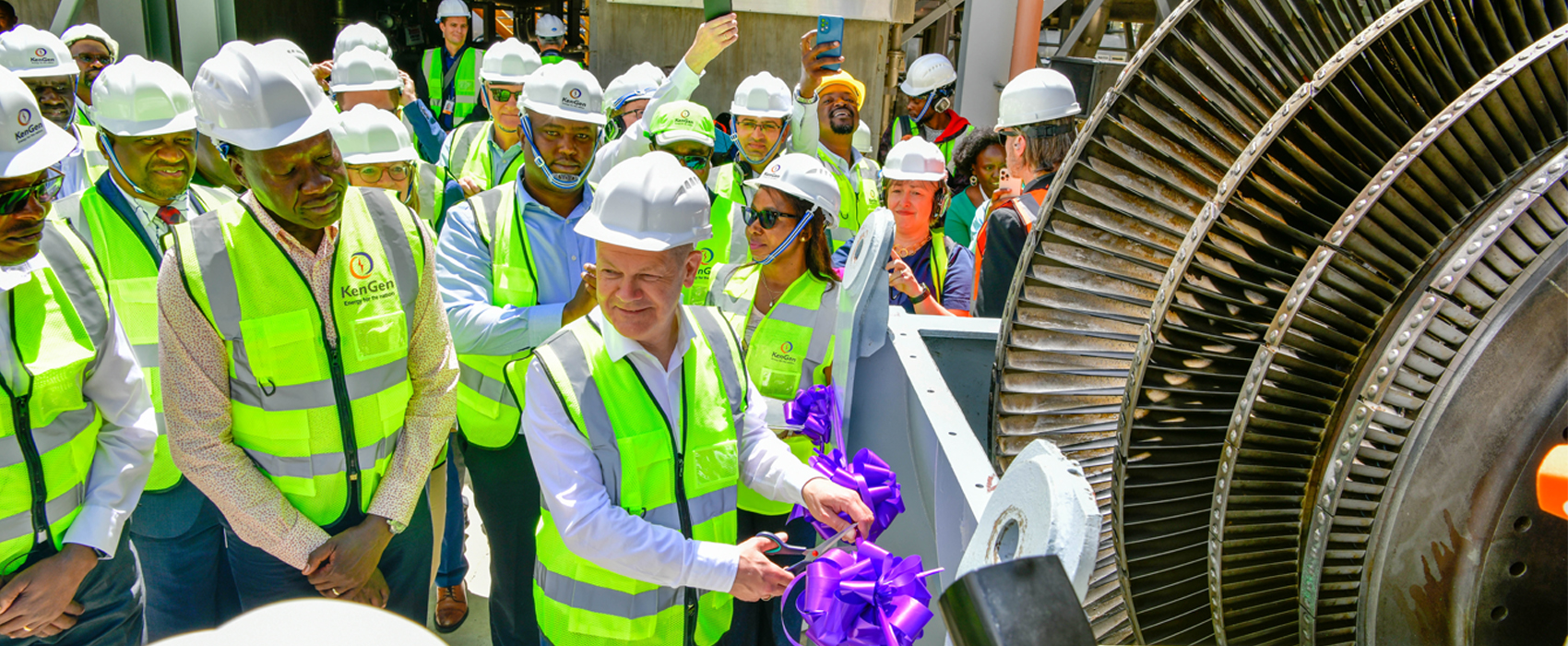 Nairobi, Monday, May 8, 2023: Kenya Electricity Generating Company (KenGen) is angling to add 40MW of geothermal energy to the grid after the German Chancellor launched an uprating project of KenGen's Olkaria I Additional Unit 4, 5, and Olkaria IV geothermal power plants.
The project which is expected to take a period of 28 months seeks to increase capacity of two power stations from the current combided total of 300MW to 340MW. The additional 40MW will not only scale up geothermal energy but also cushion Kenyans against the rising cost of power.
The announcement was made during German Chancellor Olaf Scholz's state visit to Kenya as he toured the KenGen Olkaria geothermal field on Saturday. The 340MW geothermal uprating project has been financed by the German government and will entail the replacement of existing turbine rotor with new-designed blades, which will add 10MW to each unit of Olkaria I Additional Unit 4, 5, and two units of the Olkaria IV power plants, amounting to additional 40MW.
The German Chancellor said Olkaria is an expression of Kenya's strong leadership in climate protection and a testimony of Germany and Kenya's cooperation.
"Kenya and German have entered a climate and development partnership to support Kenya in reaching a 100% renewable energy and to support the country's adaptation to climate change," the Chancellor Scholz said.
He hinted that geothermal power can be used for green hydrogen production to aid local production of fertilisers which will help Kenya establish new revenues as well as cut cost of production to support growth of local agribusiness.
Accompanying the German Chancellor was Cabinet Secretary  Ministry of Energy and Petroleum Davis Chirchir, who underscored the need to spur economic growth through the development of green energy which he said would lower the cost of electricity in the country.
Speaking at the event, KenGen Ag. Managing Director and CEO, Abraham Serem, said that KenGen's geothermal journey has been made possible through the support of Germany's KfW in collaboration with other development partners.
Kenya is ranked at position seven globally in geothermal exploration and development, out of which over 90% is generated by KenGen. So far, the company has drilled more than 320 geothermal wells within the Olkaria field, establishing a robust, sustainable footprint in Kenya, and has made inroads in several African countries such as Ethiopia, and Djibouti. 

. . . . . . . . . Ends ….......



Note to Editor:
About KenGen
Kenya Electricity Generating Company PLC - KenGen is the leading electricity generation company in the Eastern Africa region with an installed generation capacity market share of more than 60%. The company's primary business is to provide safe, reliable, and competitively priced electric energy for the country in an environmentally friendly and sustainable manner while creating value for its stakeholders.
Today, KenGen PLC has an installed generation capacity of 1,904MW, of which over 86% is drawn from green sources, namely: Hydro (826MW), Geothermal (799MW), Thermal (253MW), and Wind (25.5MW).
For media queries please contact:  
Frank D. Ochieng, Tel:0721816896
This email address is being protected from spambots. You need JavaScript enabled to view it. or This email address is being protected from spambots. You need JavaScript enabled to view it.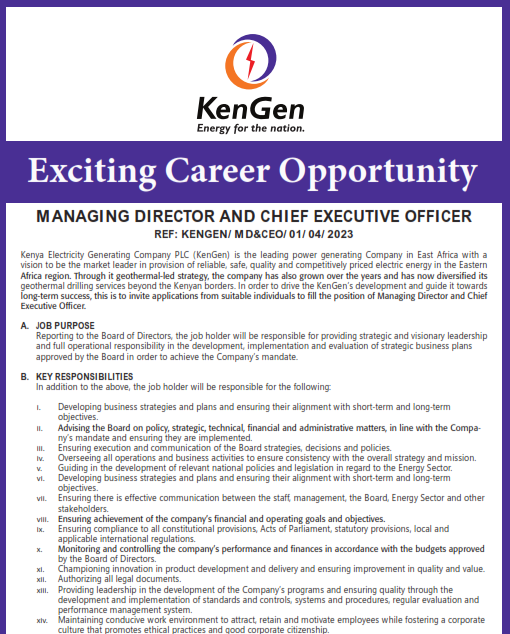 MANAGING DIRECTOR AND CHIEF EXECUTIVE OFFICER
REF: KENGEN/MD&CEO/01/04/2023

Kenya Electricity Generating Company PLC (KenGen) is the leading power generating Company in East Africa with a vision to be the market leader in provision of reliable, safe, quality and competitively priced electric energy in the Eastern Africa region. Through it geothermal-led strategy, the company has also grown over the years and has now diversified its geothermal drilling services beyond the Kenyan borders. In order to drive the KenGen's development and guide it towards long-term success, this is to invite applications from suitable individuals to fill the position of Managing Director and Chief Executive Officer.