Mombasa, Monday, June 18, 2018: Kenya's leading power producer, KenGen, has today announced that it is turning to innovation to enhance efficiencies and increase productivity as it seeks to roll out power generation projects worth Kshs. 1 Trillion over the next decade.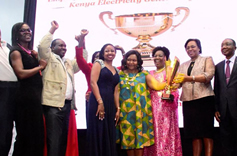 Monday, September 24th, 2018: The Kenya Electricity Generating Company (KenGen) PLC has won three coveted awards, announced during the Employer of the Year Awards 2018 ceremony.

Overall, KenGen was named the third-best employer after British American Tobacco Kenya PLC and Safaricom PLC. The company also won the top award for Responsible Business Conduct and emerged 1st runner-up in the Leadership and Governance category where Centum Investment clinched the first position.
Featured Video
Awards
Our Contacts
Head Office

KenGen Pension Plaza II
Kolobot Road, Parklands
P. O. BOX 47936, 00100, Nairobi
TEL:
+254 711 036-000
+254 732 116-000
+254 020 366-6000
Email: pr@kengen.co.ke