Monday, December 14, 2015 - 09:45
December 1 30 2015… Kenya's main power producer, KenGen, has enhanced output from hydro with the current heavy rains filling up the country's major generating dams at the Seven Forks in Eastern Kenya.
Energy planners say all the dams in the cascade have attained their spilling levels while the main Masinga Dam is still two metres to spilling at 1054.32 meters above sea level (masl).
The water levels at Kiambere- which is the lowest dam in the cascade, stood at 700.23 masl and is spilling 46 cubic meters (or 46 million litres) per second. At Masinga, the highest dam level is attained when the water reaches full supply level of 1,056.5 masl, beyond which the dam spills.
Thursday, April 7, 2016 - 10:00
Kenya's renewable energy development has received a major boost after the Kenya Electricity Generating Company (KenGen) signed a Memorandum of Understanding (MoU) with the French Development Agency (AFD) underpinning funding of up to Ksh6.9 billion (60 million Euros) by the French Government for the development of the 80 MW Meru wind project.
This is a major milestone for the Kenyan economy as well as for the generation utility which has an African reputation of implementing projects quickly and at lower costs. The MoU on the project was signed this week in Paris, France, by KenGen's Managing Director and Chief Executive Officer (MD&CEO), Eng. Mugo and the AFD Deputy Managing Director, Mr. Jacques Moineville, witnessed by Kenya's President, His Excellency Uhuru Kenyatta and his French counterpart François Hollande in France. A loan agreement is expected to be signed by August this year.

Mombasa, Monday, June 18, 2018: Kenya's leading power producer, KenGen, has today announced that it is turning to innovation to enhance efficiencies and increase productivity as it seeks to roll out power generation projects worth Kshs. 1 Trillion over the next decade.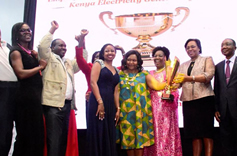 Monday, September 24th, 2018: The Kenya Electricity Generating Company (KenGen) PLC has won three coveted awards, announced during the Employer of the Year Awards 2018 ceremony.

Overall, KenGen was named the third-best employer after British American Tobacco Kenya PLC and Safaricom PLC. The company also won the top award for Responsible Business Conduct and emerged 1st runner-up in the Leadership and Governance category where Centum Investment clinched the first position.
Featured Video
Awards
Our Contacts
Head Office

KenGen Pension Plaza II
Kolobot Road, Parklands
P. O. BOX 47936, 00100, Nairobi
TEL:
+254 711 036-000
+254 732 116-000
+254 020 366-6000
Email: pr@kengen.co.ke