Nairobi, Wednesday 2nd June 2021: Kenya Electricity Generating Company PLC (KenGen) has started drilling the first geothermal well for Ethiopia Electric Power (EEP) company, setting in motion Phase II of Ksh.7.6 billion contract.
The company has so far drilled 29 metres against a possible maximum of 3,000 metres, further entrenching KenGen's foothold in the Horn of Africa as a leader in geothermal energy production.
KenGen Managing Director and CEO, Mrs. Rebecca Miano said: "The exercise started on Saturday, May 29, 2021, whereby the first hole section was drilled to 29 meters within eight hours. So far, drilling operations are running smoothly as the team moves to the next hole section. Drilling a single well takes about two months to complete. We however hope to shorten this period despite the prevailing circumstances brought about by Coronavirus Disease (COVID-19)."
Mrs. Miano said KenGen would within the next three weeks mobilize specialized drilling services crew including aerated drillers, directional drillers, and reservoir engineers to ensure the project was a success.
She said KenGen was keen on offering expert services in electricity generation, geothermal development consulting, power plant operation and maintenance and other related services across Africa.
Speaking during the official signing ceremony, former EEP CEO, Dr. Abraham Belay said they were optimistic KenGen would be able to drill the projected number of wells.
"What is more exciting is the fact that KenGen is also building the capacity of our people and eventually, we will also be able to manage geothermal equipment and run the power plants after the company exits the sites," Dr. Belay added.
He revealed that Ethiopia's quest for geothermal energy spans over four decades as the country had tried to venture into geothermal development as far back as 1981. With KenGen's entry into the country, Ethiopia is now staring at a geothermal generation breakthrough.
This move by KenGen to commence Phase II of the project follows completion of Phase I of the contract by the consortium partners under which two rigs were delivered at Aluto site in Ethiopia. The First Phase entailed purchase of drilling rigs while Phase II entails provision of drilling services. KenGen is supplying about 30 percent of the component of Phase II which translates to about USD 6.2 million (about Ksh.620 million).
Under this project, which is financed by the World Bank through a loan to the Ethiopian Government, a total of eight (8) wells will be drilled in Lot 1 using two rigs with an expected revenue of Ksh.620 million (USD 6.2 million). Each rig is expected to drill four (4) wells within a period of one (1) year. Depending on the outcome of Lot 1 wells, an additional 12 wells may be drilled under Lot 2 bringing the total to 20 wells.
In February 2019, KenGen won a joint contract with Shandong Kerui Petroleum Equipment Company and Shandong Kerui Oilfield Service Group to supply geothermal drilling services. The project is being managed between the three consortium members.
At the same time, also in the Horn of Africa, KenGen has completed drilling the first two wells for Tulu Moye Geothermal Operations PLC (TMGO) in Ethiopia and is currently preparing to drill the third well.
In October 2019, KenGen signed a contract with Tulu Moye to drill 12 geothermal wells and also supply, install, operationalise, and maintain water supply system for the project. These two projects are hinged on the company's diversification strategy which has led to the organization's expansion in the horn of Africa. Besides Ethiopia, KenGen has also secured a Ksh.709 million contract to offer commercial drilling services in Djibouti.
In February this year, the company signed the contract with Office Djiboutien De Development De lenergie Geothermique (Djiboutian Office of Geothermal Energy Development) (ODDEG). KenGen is also prospecting for similar business in Rwanda.
The company is leveraging on its expertise, in-depth knowledge of the African Rift Valley and close to four decades of successful drilling experience. It has embarked on a geothermal-led growth strategy, further boosting the green energy agenda in Kenya and beyond.
Kenya is Africa's number one geothermal energy producer and among top 10 in the world. The country has an estimated potential of 10,000MW along the Rift Valley. Currently, this potential is being harnessed in Olkaria, Menegai and Eburru fields.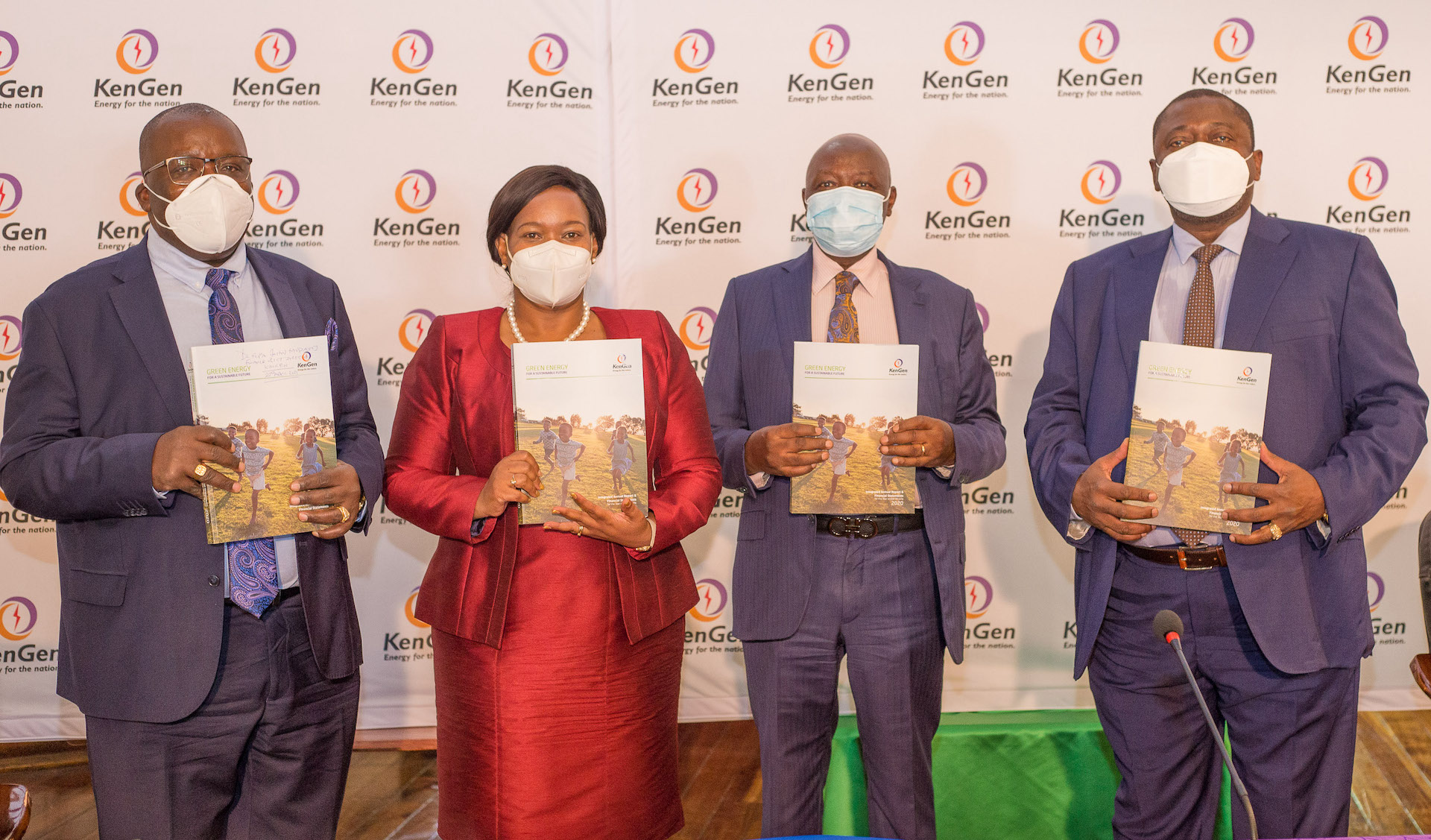 Nairobi, April 22nd, 2021: Kenya Electricity Generating Company PLC (KenGen) will pay its shareholders Kshs.1.98 Billion in dividends.
This follows today's approval by shareholders of the Board's recommendation for a first and final dividend payment of Kshs 0.30 per ordinary share of Kshs 2.50.
The dividend payout for the year ended June 2020 is an increase from the Kshs 1.65 billion paid to the shareholders in 2019.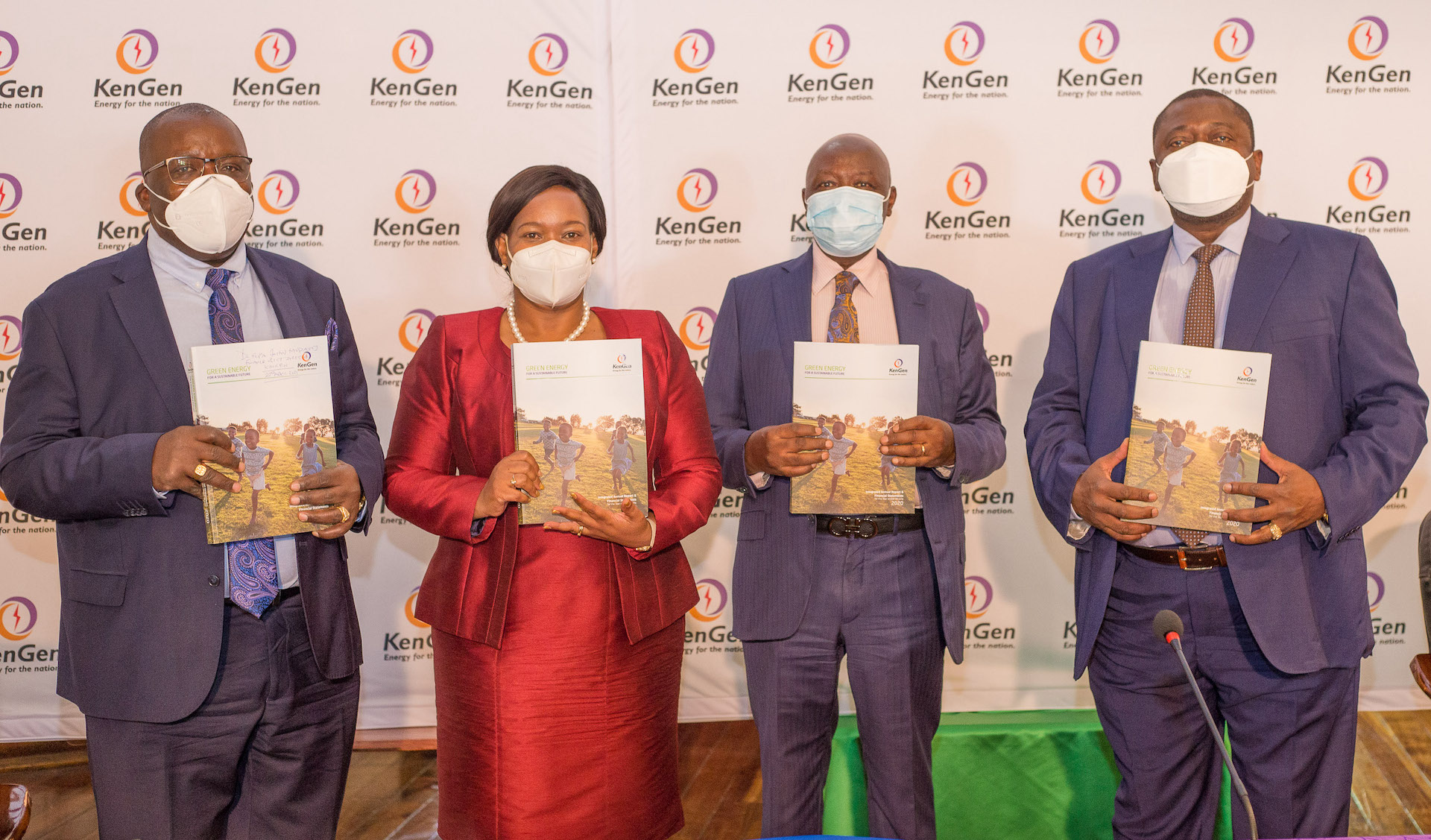 Speaking during the Company's 68th Annual General Meeting (AGM) which was held virtually owing to the Coronavirus Disease (COVID-19), KenGen Managing Director & CEO, Mrs. Rebecca Miano, said the Company's capacity expansion and diversification agenda had contributed to the results and growth achieved during the year the year. "The progress we have been able to make as an institution has mainly been driven by deliberate strategic decisions taking into account the prevailing operating environment, business sustainability, trends and market needs," she said.
She pointed out that under the Corporate strategy, KenGen had been able to expand its revenue sources and international footprint. "It is under this strategy that we now have on-going contracts to drill geothermal wells in Ethiopia and Djibouti and also provide geothermal consultancy services in Kenya. We are happy this direction we have taken is paying off and are determined to continue with it so that we can provide more value to you, our shareholders," said Mrs. Miano.
She also highlighted the achievements attained during the period, adding that the company envisioned to add another 83.3 MW to the national grid by the end of 2021 following the completion of Olkaria 1 Unit 6 geothermal power plant.The Managing Director added that going forward, the company would focus on delivering ongoing projects and pursuing new ones in Kenya and beyond.
During the year ended June 2020, KenGen announced a Kshs.13.9 Billion profit before tax which translated into 18% growth from the previous financial year during which the company announced Kshs 11.6 billion profit before tax.
The company's profit after tax improved from Ksh.7.88 billion to Kshs.18.4 billion, an increase that the company attributed to a Kshs 8.1 billion reduction in corporate tax rate from 30% to 25% as per the Government's relief measures to support companies navigate through the COVID-19 crisis.
In his address, KenGen Board Chairman, General (Rtd.) Samson Mwathethe said the company was pleased to have delivered positive results amidst a challenging business environment.
The company, he added, would continue implementing its Corporate Strategy to ensure sustainable electricity supply in the country, while leveraging on innovation and partnerships for business growth and diversification.
Ends...../
Featured News
News Highlights
News Highlights