Monday, September 24th, 2018: The Kenya Electricity Generating Company (KenGen) PLC has won three coveted awards, announced during the Employer of the Year Awards 2018 ceremony.

Overall, KenGen was named the third-best employer after British American Tobacco Kenya PLC and Safaricom PLC. The company also won the top award for Responsible Business Conduct and emerged 1st runner-up in the Leadership and Governance category where Centum Investment clinched the first position.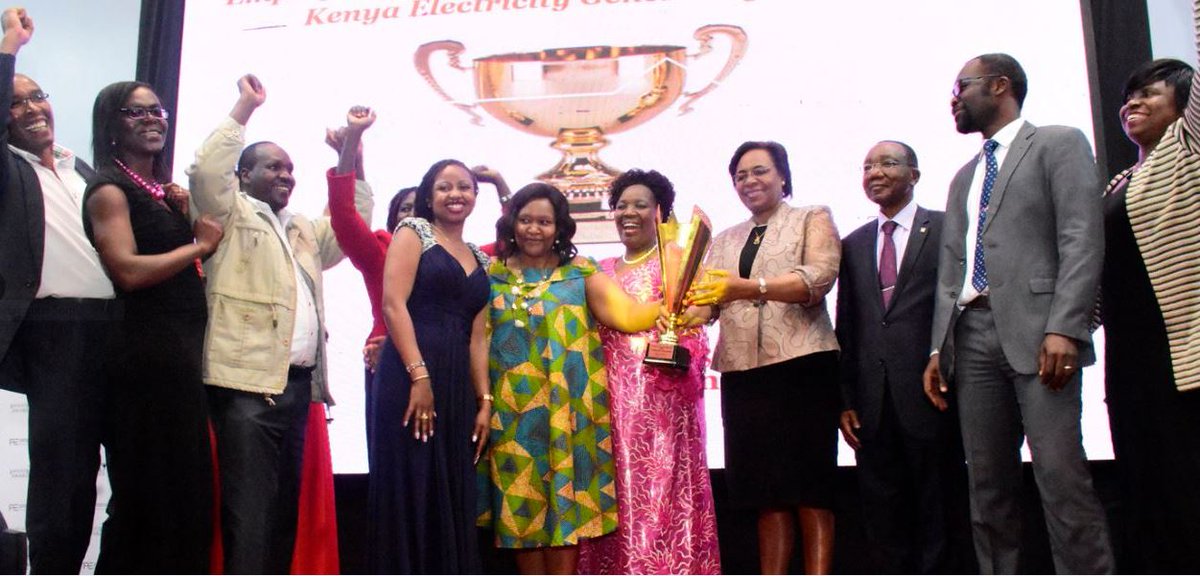 At the same time, KenGen took position three after Safaricom and the University of Nairobi respectively in the Innovation and Productivity category.
The CEO & MD, Mrs. Rebecca Miano was elated about the organization's exemplary performance. "Let me take this early opportunity to congratulate and thank all of you for the hard work and discipline you put in during the year to make this achievement possible. I am proud of you and know that you will continue doing us proud in the Good-2-Great journey," she said
Mrs. Miano said the achievement goes to show that that the employees have embraced the company's 2018 theme which is to Build, Bring out the Best and Be Present.
"Our best continues to show not only at work but even in the eyes of stakeholders and the general public," she added.
The company managed to win the awards after going through a meticulous and vigorous process which included interviews and focused group discussions.
Employer of the Year Awards (EYA) is an initiative by the Federation of Kenya Employers (FKE) that is geared towards promoting and encouraging best practices in Corporate Performance, People Management and Industrial Relations practices amongst employers in Kenya.
This initiative is aimed at increasing and sustaining productivity, enterprise performance and responsibility.
The award categories include leadership and governance, corporate performance, innovations and productivity, responsible business conduct, inclusiveness and diversity, workplace environment, learning and development, effective human resource practices and industrial relations.
KenGen, which has a staff complement of about 2,500 is one of the leading energy producers in Eastern Africa. The company contributes a total of 1,631MW to the national grid and targets to grow this capacity, mostly from upcoming green energy projects. The company has a mid-term strategy targeting 720MW by the year 2020.
Ends/…
This email address is being protected from spambots. You need JavaScript enabled to view it.